Sorry, this list is not comprehensive, and I do not include all the different blaster colors, just the different models.
Want to to order a NERF blaster? email me with your inquiry (brienchia@gmail.com)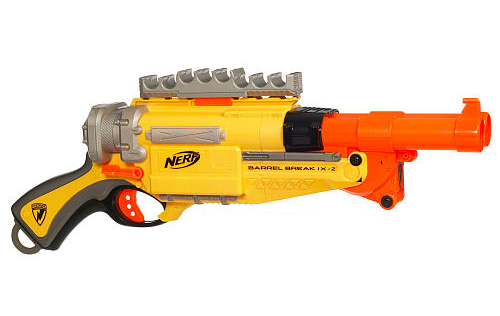 Barrelbreak IX-2
Double tagging has never been this fun.
Key extra: tactical rail dart holder
Available: Toys R Us
Maverick REV-6 Clear
Surprisingly versatile and powerful blaster
Available: Toys R Us, Parkson, Metrojaya
Recon CS-6 Clear
The bread and butter of any Nerf arsenal
Key accessory: Nitelight
Available: Toys R Us, Parkson, Metrojaya
Stampede ECS
The ultimate in automatic blasting technology
Key extra: Blast shield, Extended clip x3!
Available: Parkson, Metrojaya, Toys R Us
Vulcan EBS-25
For those who just wanna hold down the trigger and never let go
Available: Toys R Us
Barricade REV-10
The favorite blaster for the rapid fire specialist
Available: Toys R Us
Longstrike CS-6
The blaster that tags with style
Deploy CS-6
Weapon of choice for night combat. And transformers.
Nitefinder EX-3
1 dart goes a looooooong way.
Secretstrike AS-1
When you want to keep things quiet.
Raider CS-35
Superior firepower. Period.
key extra: 35 dart drum
Alpha Trooper CS-18
Rapid fire pumpin!
key extra: 18 dart drum
Rapid Fire AS-20
The weapon of choice for a firestorm.
Spectre REV-5
Secret Service nerfer's primary weapon.
key extra: folding stock
Furyfire REV-10
For a no-nonsense, reliable revolver with extended capacity
When you need to hit your target from afar.
key extra: scope & forward blaster
Available: RARE ITEM, not sold in retail.


AS-6 Hornet
For a shotgun effect with 6 simultaneous darts!
Available: Toys R Us